BALANCE YOUR CHAKRAS
Balance your Chakras with Meditation
It is important that none of the chakras are blocked and that the energy is well balanced and flowing freely. Chakra means 'wheel' and I find it helpful to think of each one as a wheel turning, when you want to unblock them just imagine them as turning quite fast and the more they are unblocked the smoother and faster the wheel turns. When Chakras are out of balance they can affect the way you both feel and act. A simple meditation will help keep them aligned.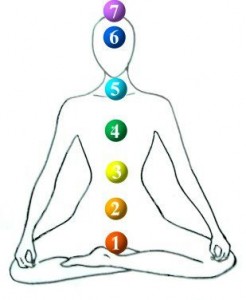 To meditate into your Chakras without using crystals simple lie on the floor, relax and aim to visualise all your chakras as coloured orbs of the same size.
Check each one and if you sense any black spots in or around the orb visualise these spots disappearing. Once you have cleansed all the chakras check they are in a straight line, any that you feel are out of line simply concentrate on that one until you feel it drop back into place.
Balancing with Chakra Stones
By laying the correct stone on the correct chakra this is the first step in balancing your chakras. When working with the chakras to unblock them you shall only choose one stone for each individual chakra.
You can leave these resting on the chakras for a aprox 5 mins and using a dowsing tool you can check if the chakras are blocked. We have a number of mini courses on "How to See Auras" "Understanding Chakras" which you can
request for free
from our website, however to really understand this subject in full it is recommended that you study one of our fully recognised and accredited diploma/certificate courses in this subject.
Home Study Courses in working with Chakras, Crystals and Auras
Luna Holistics has over 20 holistic healing courses on offer that you can study from home, however by far the most popular courses are in the above subjects. If you would like more details of the courses on offer and how you can learn to become a professional accredited holistic therapist then please visit our website at
http://www.onlinehomes

tudies.com